Seminars & Conferences
CGM conducts conferences and seminars to equip Christian leaders, pastors and lay workers for effective ministry.
24th Pastoral Care Conference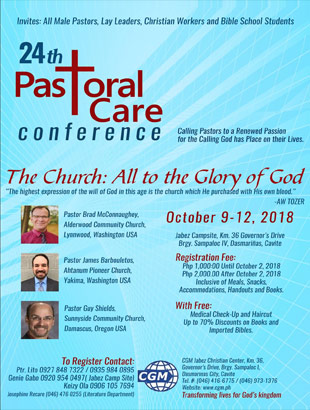 Calling all Pastors to a Renewed Passion for the Calling God has Place on their Lives.
The Church: All to the Glory of God
"The highest expression of the will of God in this age is the church which He purchased with his own blood." --AW TOZER
NLT LASB Seminar - Baliwag Bulacan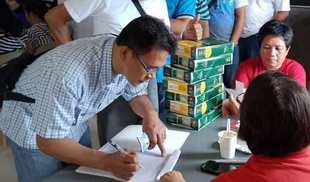 Held at Baliwag Bulacan
August 31, 2018
LASB Seminar Sariaya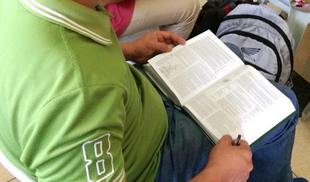 Held at Sariaya, Quezon
January 18, 2018
22nd Pastoral Care Conference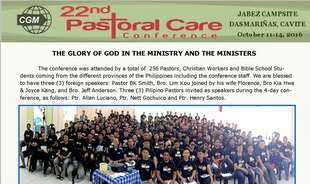 "The Glory of God in the Ministry and the Ministers"
The Conference was attended by a total of 256 Pastors, Christian Workers and Bible School Students coming from the different provinces of the Philippines including the conferences staff. We are blessed to have three (3) foreign speakers: Pastor BK Smith, Bro. Lim Kou joined by his wife Florence, Bro Kia Hwa & Joyce Kang, and Bro. Jeff Anderson. Three (3) Filipino Pastors invited as speakers during the 4-day conference, as follows: Ptr. Allan Luciano, Ptr. Nett Gochuico and Ptr. Henry Santos.
LASB Seminar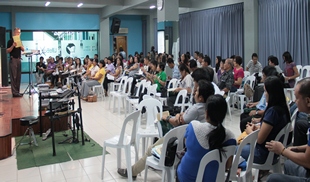 LASB Seminar held at Santiago, Isabela
June 29, 2013
Pastors' Conference:
Ministering Effectively as People After God's Own Heart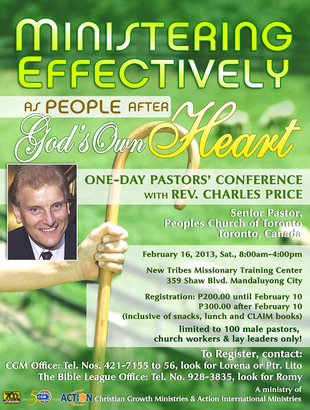 as People after
God's Own Heart
One-day pastor's conference with Rev. Charles Price
Senior Pastor
People's Church of Toronto
Toronto Canada
ONE-DAY Conference WITH Pastor Fred Williams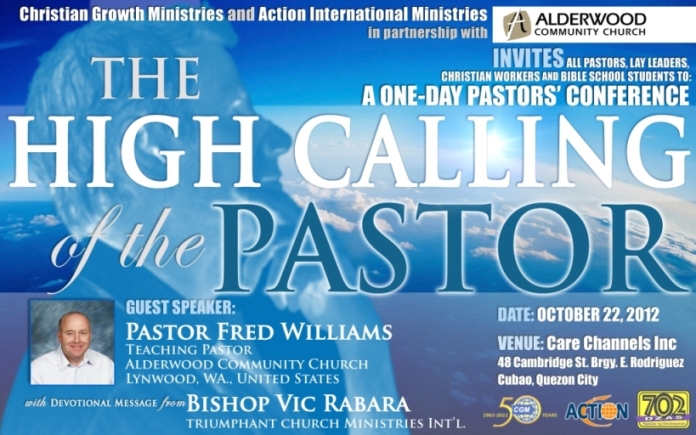 LIMITED TO 150 MALE PARTICIPANTS ONLY
FOR MORE INFORMATION:
Contact CGM Office at Tel. Nos.421-71-55 to 56  look for Ms. Lorena or Pastor Lito
The 18th Pastoral Care Conference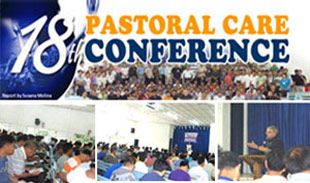 with Dr. Gary Rieben
AUGUST 7 TO 9, 2012
This 2012 is the 18th years of Pastoral Care Conference sponsored by Christian Growth Ministries and ACTION International Ministries.
2010 Conferences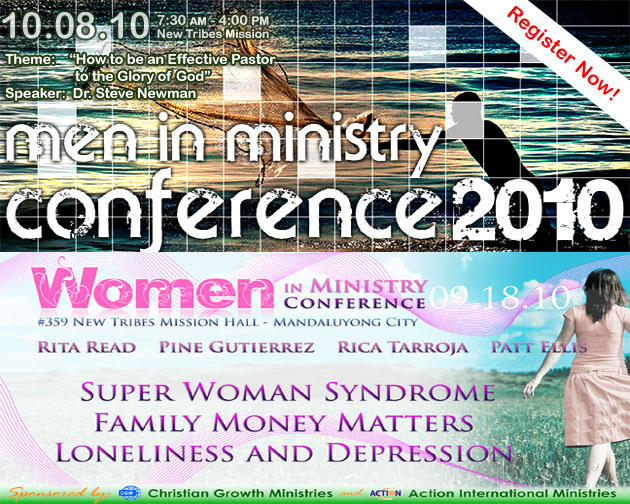 Prisoner No More!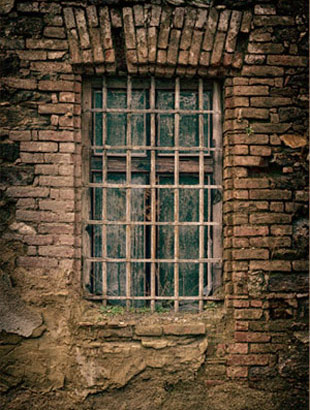 "Before this faith came, we were held prisoners by the law, locked up until faith should be revealed." Gal. 3:23
Another Milestone of Pastoral Care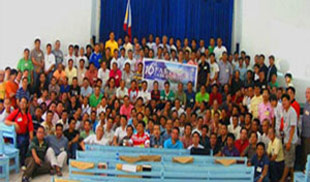 "My calling was renewed; I was strengthened, and fed with new insights"; Capt. Rey Magat – Salvation Army-Asingan, Pangasinan
15th Pastoral Care Conference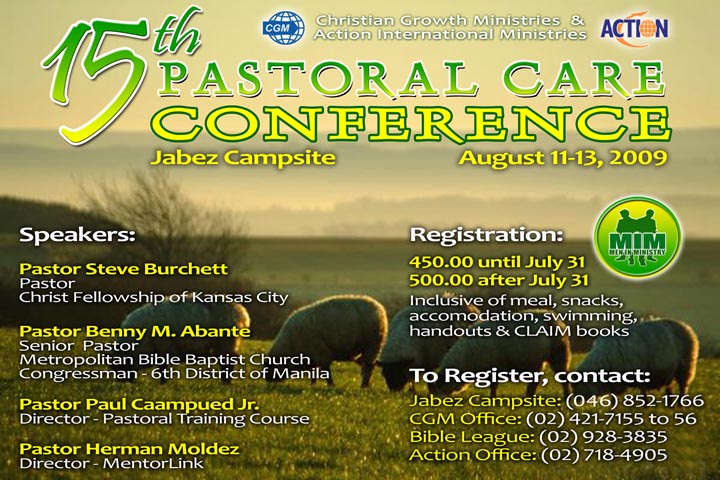 "A Family that Makes Difference in Ministry and Society"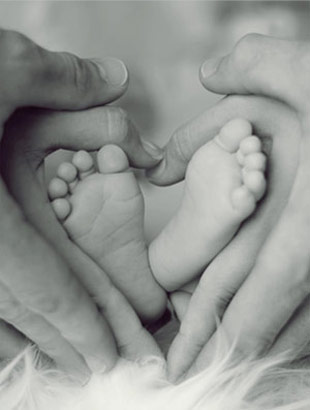 Pastor Cyril Agustino of Aklan Baptist Church together with other pastors has this to say, "We are thankful to CGM and ACTION for bringing the conference here. The speakers are anointed; they tackled the issues without reservations".
One Day Conference for Samareños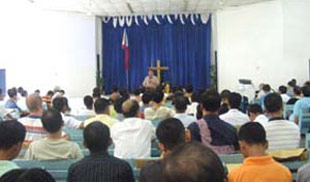 Topic: Spiritual Maturity as Measurement of Church Growth
During the sessions on Five (5) Spiritual Maturity Indicators (Sin, Sanctification, Surrender, Spirit-fullness, and Service),
14th Pastoral Conference
"Shepherding the Flock of God"
August 12-14, 2008
Project Jabez Campsite, Pala-pala, Dasmarinas, Cavite
Shepherding the flock of God was the theme chosen for the 14th Pastoral conference, a two and a half day, all men conference for pastors and workers. 153 delegates coming from as far as Mindoro, Zambales, Gumaca, Quezon and Bondoc Peninsula came. There were also two Korean delegates that attended the conference.