True to what Jesus said in Matthew 25:36, "I was in prison and you came to visit me…", CGM assists and equips local churches to conduct discipleship programs for prisoners in selected jails in Metro Manila. Jail workers are equipped, mobilized and united for effective service and ministry.
Previous Events and Updates:
One-Day Conference at NBP Sampaguita Compound
On September 2008, CGM in partnership with Action International Ministries conducted a One-Day Conference at National Bilibid Prison (NBP). Missionaries of ACTION, Dr. Rod Pence and Steven Blakeman discussed the meaning of "True Worship", they also challenged and encouraged them using the book of Romans. The conference was attended by 100 inmates.

RVO's Half-Day Seminar
A Half-Day seminar for Religious Volunteer Officers was also held outside the Sampaguita compound of NBP. The seminar was attended by 37 RVOs.
Two Days Discipleship Training at Mandaluyong City Jail
21 inmates were challenged and encouraged to live a life pleasing to God, to share their personal testimony as followers of Christ and to share the gospel to other prisoners.
December 2008, Christmas Gift-Giving
(Rizal Provincial Jail and Mandaluyong City Jail)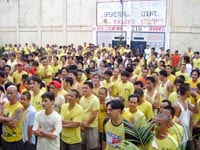 418 inmates attended and received gift packs
205 inmates prayed to receive Christ.
36 Jail Guards joined the Evangelistic gift-giving
Upcoming Event:
"The Reunion",
A One-Day Conference for Ex-prisoners who are in the ministry.
Date: November 16, 2009
Venue: The Bible League, #9 Col. Salgado St., Kamias, Quezon City